First-Class Assemblage Point Shifting Crystals for Correcting the Assemblage Point
The human Assemblage Point location, its front entry and rear exit angle is a pivotal factor for optimum mental and physical health.
Clear Quartz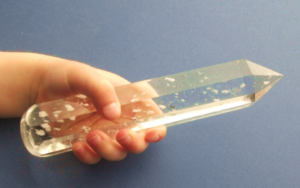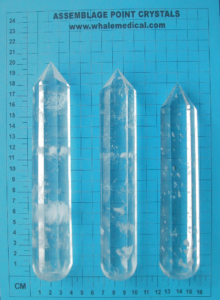 Rose Quarts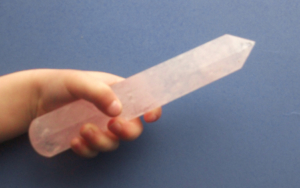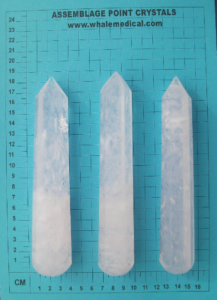 Detrimental locations of the Assemblage Point are conjunctive with disorders such as Post Traumatic Stress Disorder (PTSD), chronic depression, post natal depression, chronic fatigue, myalgic encephalomyelitis (ME). In contrast high right locations can be combined with chronic anxiety and panic disorders, etc.
These and other disorders cause great suffering and distress not only for the individuals but also for their families and relatives. Alongside this, endeavouring to manage these disorders with drugs, counseling, psychology and psychiatry cost the UK's National Health Service billions of pounds annually. Therefore, the professional ability to administer a high quality Assemblage Point correction service has become paramount and is invaluable, regardless of the practitioners fees.
To carry out any type of quality work or practice, it is essential to use first-rate tools. Assemblage Point shifting crystals are tools and they must be quartz based so as to take advantage of the Piezo electric qualities of quartz crystal, (Click here read about this).
Beware of other mineral specimens such as Labradorite, Lapis Lazuli, Jasper, Agate, Bloodstone, etc. as these are NOT suitable for Assemblage Point correction and their utilisation for this purpose must be avoided. They do not have the necessary Piezo electric qualities required.
Our Assemblage Point correcting crystals have six perfect triangles forming a sharp point. They are 16 to 20 centimetres long or more and weigh 160 to 300 grams upwards. They have a very strong energy output at the point that can be easily felt on the palm of the hand.
In order to capture and hold a client's Assemblage Point so as to execute a correction shift, the domed end of the crystal must be perfectly polished. This is essential for gathering and concentrating the energy of the human Assemblage Point, making it very easy for most practitioners to redress detrimental Assemblage Point locations and entry angles, back to a healthy central psychological and physical energetic location. (see Fig. 1 below)
Available in clear and rose coloured quartz. Our crystals are cut and polished by us specifically for practitioners working with Assemblage Point correction.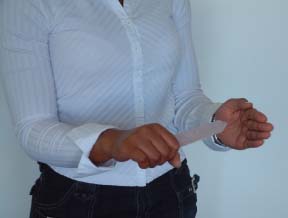 Checking the energy output of a crystal.
Each crystal is provided with a Certificate with its specifications, origin and quality.
Pricing: Our Assemblage Point crystals are priced by the weight in Grams. As a guide, the price is GB£1.00, US$1.30, EU€ 1.20 per gram. Be mindful that Currency Exchange Rates do vary.
Should you want to purchase an Assemblage Point crystal, when emailing us, please state you spending budget. This will allow us to send you photographs and prices along with the specific size and weight. We will post to you by UK's Royal Mail signed for Tracked and Traced Service. We will also need to know your postal area and country.

Fig.1
Absolute Minimum Specifications for Assemblage Point Shifting Crystals