Hand Held Infrared Differential Bioscanner
NEW RELEASE: MkIII Infrared Bioscanner
The Infrared Diferential Bioscanner MkIII is a compact travel friendly portable Instrument. Hand-held user friendly with a high quality Soft Grip Instrument Case, featuring an overall durable and reliable design.
Designed as a diagnostic companion for Lux IV and Stellar Delux. Having many applications, it is versatile and uncomplicated to use.
Advantages In Use
The human body emits microwaves in the infrared spectrum. Diseased and injured areas emit higher or lower levels of energy when compared to healthy parts of the body. Quantitative real time Infrared Thermal diagnostics can provide:
* Rapid calibrated evidence of the biological energy levels accompanying disease or injury.
* Indicate the correct type of electronic gem therapy application or other therapy modality required to counteract and heal the problem.
* Permit the monitoring of the applied therapy's effects during and throughout treatment.
* Provide the clinician (and the patient) with visual evidence of the effectiveness and progress of the applied therapy.
* Increase success rates and shortens the patients attendance and recovery time as well as saving the clinician's time and energy.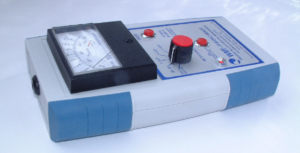 HAND-HELD SCANNER
(side-view)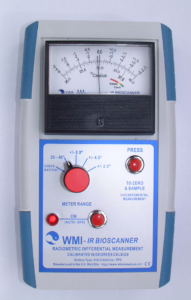 HAND-HELD SCANNER
(top-view)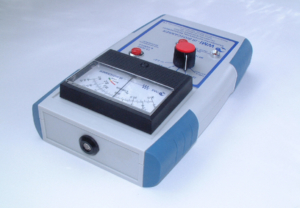 HAND-HELD SCANNER
(front-view)
Extracts from the Lux IV and Infrared Bioscanner Operating and Training Handbook
levels accompanying disease or injury.
Apparatus Description
This radiometric differential scanner instrument is simple and easy to use. It is battery powered and provides rapid accurate real-time diagnostic assistance. It is extremely sensitive and accurate and provides a very fast response time when scanning the body's natural microwave emissions. The Human Body emits microwaves in the infrared spectrum. Diseased and injured areas emit different levels of energy and frequencies when compared to healthy parts. When the Bioscanner's diagnostic potential is combined with the Lux IV Electronic Gem Therapy lamps, 'Real-Time Medical Diagnostics and Management' is the result.
The temperature of patients can vary; many aspects can affect it, for example: age, weight, height, sex, diet, blood pressure, menstrual cycle, metabolic rate, infection, menopause, state of health, diet, these and many other considerations will affect the individual's temperature. Therefore, comprehensive thermal maps or models suitable for diagnostic and management are almost non existent. Thus there are very few baseline or bench mark values known in relation to the diagnosis of disease and injury. So in the past thermal diagnostics methods have been treated with considerable reservation.
Today, this has changed. Radiometric differential measurement does not rely on a common baseline or benchmark of calibrated values for different types of injuries or diseases in order to provide rapid accurate assessment and diagnosis. The Infrared Bioscanner does not rely on any of the traditional methods of temperature measurement. The baseline reference temperature value (for a healthy condition) that is scientifically required is taken from the patient rather than from some medically established table of values. The Bioscanner achieves this by taking a reference reading from the patient and this eliminates the problems created by variations of temperature between individuals. Using our Infrared Bioscanner, a 'sample and hold' reading is taken from a corresponding healthy area of the patient. This sample reading is retained in the instrument's memory and the Infrared Bioscanner is then used to scan the diseased, injured or affected area and this is compared against the stored value taken from the patient's unaffected or healthy area.
Diseased or injured areas of the patient will emit higher or lower energy levels when compared to unaffected parts. The more serious the presented condition under examination, the higher the deviations of emissions will be and the meter will record these. Using the Infrared Bioscanner to scan back and forth across any area, it is a simple matter to pinpoint the exact problem area and the nature of the problem. This greatly assists in determining the correct treatment to improve and correct the patient's energy emissions back towards a normal level.
High Differential Reading
Contusions, fractures, burns, carcinomas, lymphomas, melanomas, prostate cancer, dermatological diseases, rheumatoid arthritis, diabetes melitis and associated pathology, liver disease and many other common conditions, including infections, are usually accompanied with vasodilation, hyperthermia, hyperperfusion, hypermetabolism and or vascularisation: all high energy conditions with higher microwave emissions, often accompanied with discomfort and pain. The Infrared Bioscanner will easily detect and record these to a distinguished difference of 0.05 degree Celsius. The slightest increase in these conditions will cause the Bioscanner's meter reading to increase instantly as it is compared to the healthy stored reference value.
Low Differential Reading
Conversely, conditions involving atrophy, neuropathy, deep vein thromboses, paralysis, ulceration, and so on, exhibit localised hypothermia, hypometabolism, vasoconstriction, low energy conditions with a lower microwave emission. In this case the Bioscanner's meter will decrease towards negative values compared to the healthy reference value.
High And Low Differential Reading
Many conditions will involve tissue areas of both high and low readings. For example disabled patients suffering with spastic, athetoid, dystonic and choreiform muscular problems will present both high an low reading on their limbs depending on the amount of circulation and nerve energy levels in any given muscle group. This is the same for stroke patients with paralysis, some muscles will be under tension with excessive energy and other muscle groups will be with a very low level of energy, possessing no tension or feeling. Using The Infrared Bioscanner in conjunction with gem lamp treatment, such differentials can be addressed, giving rise to a considerable improvement for the patient's mobility.
SPECIFICATIONS
MkIII Infrared Bioscanner
Meter Ranges: The Infrared Bioscanner has two modes of measurement:
1) Standard Temperature Measurement from +20.0 Celsius to +40.0 Celsius.
2) Differential Temperature Measurement Mode in tree ranges of sensitivity:
a) +8.0 Celsius. to Centre Zero to -8.0 Celsius
b) +4.0 Celsius. to Centre Zero to -4.0 Celsius
c) +2.0 Celsius. to Centre Zero to -2.0 Celsius
Differential provide readings of great accuracy and on the most sensitive range the reading can be determined down to a twentieth of a degree Celsius. The meter is calibrated in degrees Celsius via a 'Centre Zero' Moving Coil Meter.
Battery
The Infrared Bioscanner has 'Automatic Power Off' function. It switches itself off after 5 minutes. This considerably extends the battery life to more than 1 year. Powered by one 9 Volt Alkaline Batteries Size: PP3 type. Current Consumption is only 6 Millie Amp. Power consumption is 54 mW. The instrument is protected against accidental reverse battery installation. Includes a 'Battery Check' function on the Meter's Scale.
Electromagnetic Spectrum Response
The Infrared Bioscanner is sensitive to wavelengths between 8 and 14 micrometers (frequencies between 3.75 x 1013 & 2.14 x 1013 HZ). At this wavelength window, gases such as carbon dioxide do not affect the accuracy of the reading. With a sampling rate of a quarter of a second, the IR meter response time is very fast.
Dimensions & Weight
The instrument's size is 200 mm long, 120 mm wide and 35 mm high and weighs 478 grams.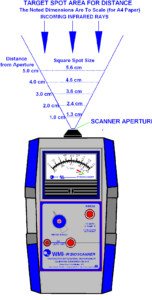 SCANNER TARGET AREA AND THE TARGET DIAMETER FOR DISTANCE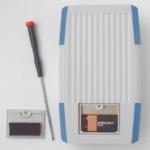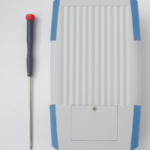 UNDERSIDE VIEW OF BATTERY COMPARTMENT: USES ONE 9 VOLT ALKALINE BATTERY SIZE: PP3.
ORDERING INFORMATION
Payment is by bankers transfer in £Sterling, US$'s, Canadian$'s, Euro's or Australian$'s. We require an order letter from you by post, email or fax stating your wish to provisionally order a Stellar Delux system, subject to payment, to enable us to process the necessary transaction through both banks. If your invoice name and address is different from the delivery address, please advise us of both.
Whale Medical's banking details for Sterling or US$ and other currency transfers are sent by fax or letter only.
Please do not forward payment before confirmation of our stock position and delivery dates.
The above items remain the property of Whale Medical. until paid for in full, all equipment being guaranteed. All of our business is strictly by pro-forma invoice and dispatched by insured road/air transport, next-day delivery service. For security, the Handbooks are sent by separate post and the Gems forwarded by insured registered mail, special delivery. Please note that personal cheques require at least 4 working days for the funds to clear. For foreign orders, the full price is required prior to dispatch by insured Air Freight, normally the equipment will be delivered direct to your door via a shipping agent. Our offices keep track of the goods until they are delivered.
Environmental Considerations
Differential Infrared Thermography will tolerate a much wider environmental range than is permitted for contact thermography due to the fact that the base line reference is taken from the patient and not from a medical reference book or paper where base line values have been obtained by research on a cross section of patients. Nevertheless by observing some simple and obvious environmental controls, very accurate meaningful scientific data and results can be obtained.
1) Maintain the surgery and waiting room at a temperature of 20 to 24 oC. Avoid cold draughts, glowing electric fires and heating radiators close to the examination target area.
2) Avoid scanning patients immediately following exposure to excessive cold, hot or wet weather or that have been standing in exposed sources of heat, such as a bath, shower, sauna or swimming pool. Avoid providing hot or cold drinks and food immediately prior to scanning, especially if the scanner is being used for dental diagnostics (infections/neuralgia). Allow any such patients to acclimatise to their new environment.